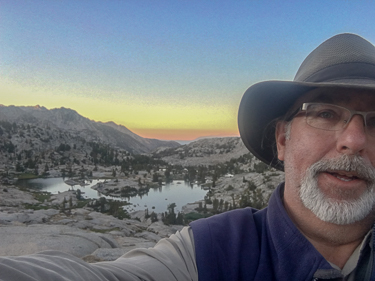 Photographer Scot Miller's work has formed the basis of numerous books, including Walden: The 150th Anniversary Illustrated Edition of the American Classic; Cape Cod: Illustrated Edition of the American Classic; First Light: Five Photographers Explore Yosemite's Wilderness; My First Summer in the Sierra: 100th Anniversary Illustrated Edition, winner of a 2011 National Outdoor Book Award; Thoreau, The Maine Woods: A Photographic Journey Through an American Wilderness; and Emerson, Muir, Thoreau: A Photographic Trilogy of American Wildness. In 2018, Scot published A Word for Nature: Photographs from walks on the Trinity Skyline Trail in which he advocates for a long-term plan to manage the 10,000+ "wild" acres of the Trinity River Greenbelt and Great Trinity Forest in Dallas, Texas. His photographs are featured in the new book The Texas White House: A Photographic Tour of Lyndon and Lady Bird Johnson's Home on the LBJ Ranch. Through his photography, he attempts to inspire an appreciation and understanding of the uniqueness of wild places and open spaces.
For twenty-five years, Scot has also captured the scenery he photographs with state-of-the-art video cameras and is currently recording moving images in stunning 4k. He is a video footage contributor to Getty Images and a contributor to the "Moment in Nature" videos, broadcast nationally on Emmy Award-winning CBS Sunday Morning. His photographic and video collaborations include work with Yosemite Conservancy, the Walden Woods Project and the Harvard Museum of Natural History, where "Thoreau's Maine Woods: A Journey in Photographs by Scot Miller" was on exhibit from November 2013 through February 2015 and then traveled to multiple locations in Maine.
Scot's photography has been featured in publications and books including D Magazine, Texas Highways Magazine, America West Magazine, Cape Cod Life, National Wildlife, Steinway & Sons Magazine, Yosemite Magazine, Yosemite Fund Annual Reports, the National Park Service's Yosemite Valley Plan and other Yosemite-related projects, and the National Park Service's Special Resource Study of Walden Pond and Woods.
He is currently photographing in the Maine Woods, Yosemite National Park & the Sierra Nevada, southwest Colorado, the Ozarks and the Texas Hill Country where he was Artist-in-Park for Lyndon B. Johnson National Historical Park (and LBJ Ranch), located in Johnson City and Stonewall, Texas, and the Great Trinity Forest & Trinity River watershed in Dallas. Italy and France are also favorite subjects.
Scot's fine prints have been featured in exhibitions at the Ansel Adams Gallery in Yosemite National Park, the Dallas Museum of Natural History, the Franklin Institute in Philadelphia, the Thoreau Institute at Walden Woods, the Walden Pond Visitors Center in Concord, MA, the Turtle Bay Exploration Park in Redding, CA, the North Carolina Forestry Museum, the Cincinnati Museum Center, the Crystal Bridges Museum of American Art in Bentonville, AR, the Cultural Center of Cape Cod, and other venues.
Scot is a passionate advocate for the protection and preservation of wild spaces and for many years has lectured and used his still and video images in support of conservation-oriented nonprofit groups, including Yosemite Conservancy, the Walden Woods Project, Caddo Lake Institute, Groundwork Dallas and Friends of Lyndon B. Johnson National Historical Park.
Scot lives in Dallas, Texas, with his wife, Marilyn, where they own and operate Sun to Moon Gallery, a fine art photography gallery.
CBS NEWS – Capturing the "Sunday Morning" Moments of Nature
CBS NEWS – Nature up close: Preservation with a camera
Dallas Observer article about the A Word for Nature book
FOX 4 NEWS – Lone Star Adventure: Trinity Skyline Trail